News
Commodity costs to make Rabbit a pricey year
Time: 2016-04-20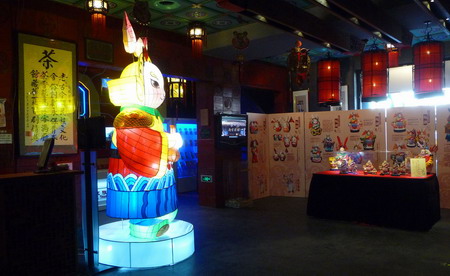 A three-meter-high model rabbit welcomes customers to the Lao She Teahouse in Beijing. [Photo / China Daily]
GUANGZHOU - As the Lunar New Year draws near, rabbit-shaped toys and gifts are popular sale items at markets in Guangzhou, Guangdong province, but buyers have to fork out more due to high commodity prices.
With the Year of the Rabbit due to begin on Feb 3, 2011, rabbit-shaped stuffed toys are lining up on the shelves at Our Shop, a toy outlet in Guangzhou. The French rabbit series Le Sucre is proving to be a hot item this year, said Lin Zhuopeng, the shop owner.
However, Lin paid 10 percent more for the stuffed toys, compared to those from the Year of the Tiger.
Although the market prices of his toys on offer are higher than what he paid two months ago, Lin said he will bear the extra costs and will not raise prices at the moment.
Dongguan Chashan Beileyuan Toys Co is selling eight models of stuffed rabbit toys at a wholesale price of between 9 yuan ($1.4) and 25 yuan an item, higher than previous years.
Related readings:


Little Christmas cheer for factories


Living cost mounts in China as cotton, food prices surge


Rising costs prompt firms to revamp


Artworks with image of rabbits popular as lunar new year approaches
"The raw materials such as soft short floss, bright velvet and cotton are more expensive. If you look at workers' pay and administrative costs, the sale prices are reasonable for the quality of the products," said Huang Lixia, an executive, adding that the company is feeling the pressure from the fluctuation of raw material prices.
Guangdong Tongxin Toys Co in Foshan has seen a 50 percent jump in the price of bright velvet, which is used to make the Le Sucre rabbit series.
"The wholesalers are not happy with the price change but we are not the only one raising prices," said Tan Xiaolong, an office manager for the company, adding that kimono-wearing rabbits and rabbit-shaped hanging ornaments are also popular.
The price of polypropylene (PP) fiber, which is used to stuff the toys, has risen by about 20 percent this year, according to a PP fiber supplier in Guangzhou.
According to statistics from the China National Cotton Exchange, the cotton price had climbed since Sept 1 from about 18,000 yuan to 28,500 yuan a ton by mid-November, reported Xinhua News Agency.
Zeng Yongxin, an office worker in Guangzhou, plans to purchase rabbit-themed ornaments but is only willing to buy at reasonable prices.
Yan Kedi, a college student in Guangzhou, who buys Chinese New Year zodiac toys annually, said she plans to buy stuffed toys, hanging ornaments and a purse.
The lunar new year season is expected to significantly boost sales of toys in China.
[ Closed ]